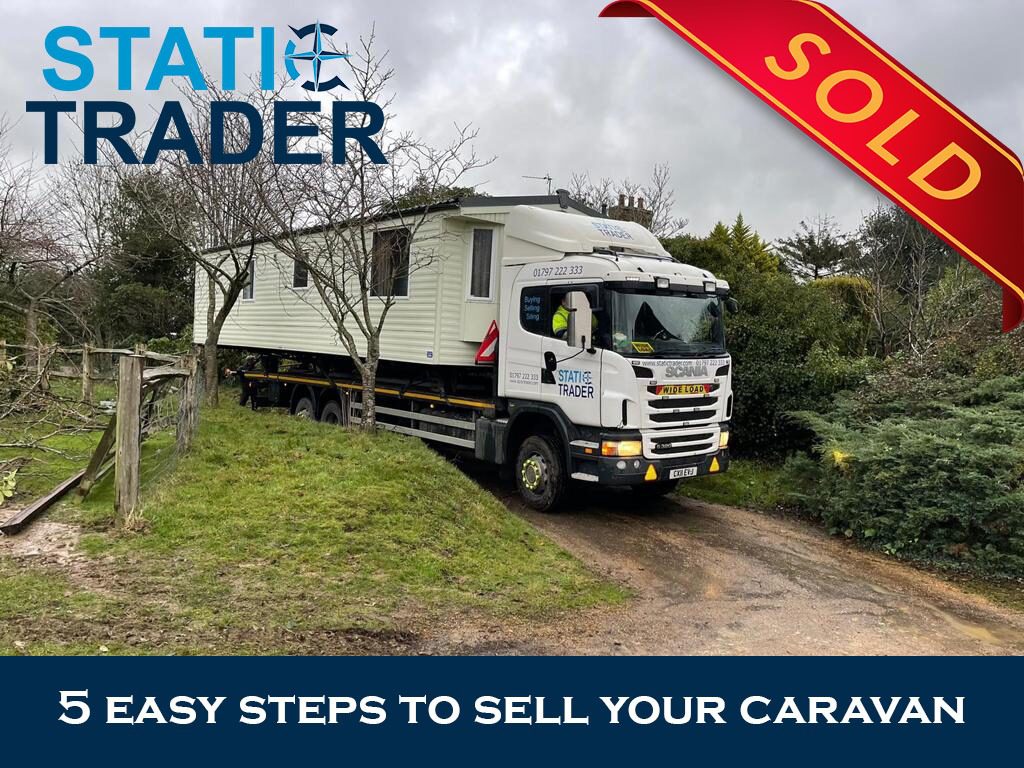 So, you're looking to sell your caravan to Static Trader and wish to know what the next steps you need to take after we have agreed to buy your static caravan? Selling to Static Trader, who are a reputable caravan dealer, is the most safe and secure way to sell your caravan. You can be sure that you will get paid quickly for your caravan and receive support throughout the purchasing process.
Static Trader have listed 5 steps you will need to take to successfully sell your caravan to us once we have agreed a fair and honest price.
Tell The Park Your Leaving
The first thing you will need to do is to inform your park that you are leaving. Some parks require owners to notify them that you are removing your caravan. This can vary in the length of notice period you will need to give them, so it is advisable to submit this notice along with any information regarding your intended removal as soon as possible. At this stage you will need to fill out a Customer Leaving Park form.
Pay Any Outstanding Fees
Make sure all your utility bills are paid in full before you complete your sale with us. This will include any costs for the use of gas, electricity, water and the internet. You'll also need to speak to your park about your pitch fee and whether any refunds are due for anything you've already paid.
Caravan Disconnection and Pitch Removal
You will need to arrange with the park the disconnection and removal of your caravan from your allocated pitch, so the caravan is ready for us to collect. This process involves the disconnection of the supply of services to your caravan, i.e., gas, electric, water and sewerage.
This disconnection and removal service can only be carried out by the park and will come at a cost to you. The disconnection fee can vary dramatically depending on the park and can range from £300 upwards. This service and amount should be outlined in your agreement, so it is advisable to check with the park owner/manager.
Caravan Collection
Once the caravan is ready for collection, we will provide you with a collection date. At Static Trader we own our own caravan transporters so we will always have the right vehicle to collect your caravan. We will check with the park that the caravan is in a loadable position to ensure all runs smoothly on the day of collection.
Full Payment
Once we have confirmation the caravan is ready for collection our transportation team will arrive on site to collect the caravan. At this stage we will check over the caravan to see if it's in the condition as described. Once we are satisfied with the caravan's condition, we will then pay the remaining balance and take the caravan away.
Constant Support
Static Trader will be here to support you throughout the purchasing process to make sure the sale of your caravan goes smoothly, and you get paid as soon as possible. You will be allocated an Account Manager who will be on hand to help and guide you through these steps and assist you where possible.
Collection Caveat
Static Trader is a professional caravan dealer, and we have a streamline purchasing process and caravan collection service. However, we are not infallible and on occasion we meet unpredictable hurdles which can slow this process down. Potential pitfalls that occurred in the past are:
Lorry breakdowns
Equipment malfunctions
Excessive road traffic
Adverse weather conditions
Employee illness
If these problems where to occur during our dealing with your caravan, we will keep you fully informed as to the holdup and do our best to remedy the situation as quickly as we can.
Sell Your Static Caravan to Us Today
Static Trader will always guarantee to offer a fair and reasonable offer to purchase your caravan
Looking to Buy a Used or New Static Caravan?
Static Trader has a wide selection of new and used offsite static caravans available for you to buy to us as temporary accommodation on your land including a wide range of static caravan manufacturers. Whether you want a single, double, or lodge style static caravan we have the right unit for you. We also buy caravans so if you wish to upgrade and sell your current range of static caravan, we will be happy to purchase them back from you.
Why not view our current stock of used and new static caravans on our website here – Buy a Caravan – or call us on 01424 774 759 to get more information or to book a viewing. Viewings at our Rye-based static caravan showground are highly recommended. So why not pop down and let us show you around the static caravans models you're interested in, answering any questions you may have. We stock all the main static caravan brand manufacturers including Atlas Leisure, Willerby, ABI, Pemberton, Carnaby, Swift, and Delta.
Static Trader understands that finding the right static caravan to fit your needs as well as your plot can take up a considerable amount of time. Start a conversation with us early in your search and if you can't find what you're looking for from our range of off-site statics for sale, we'll make every effort to source one for you.
If you need to upgrade what you already have, or you just wish to sell your static caravans you already own, then provide us with the information and we will get back to you with a price – Sell My Caravans